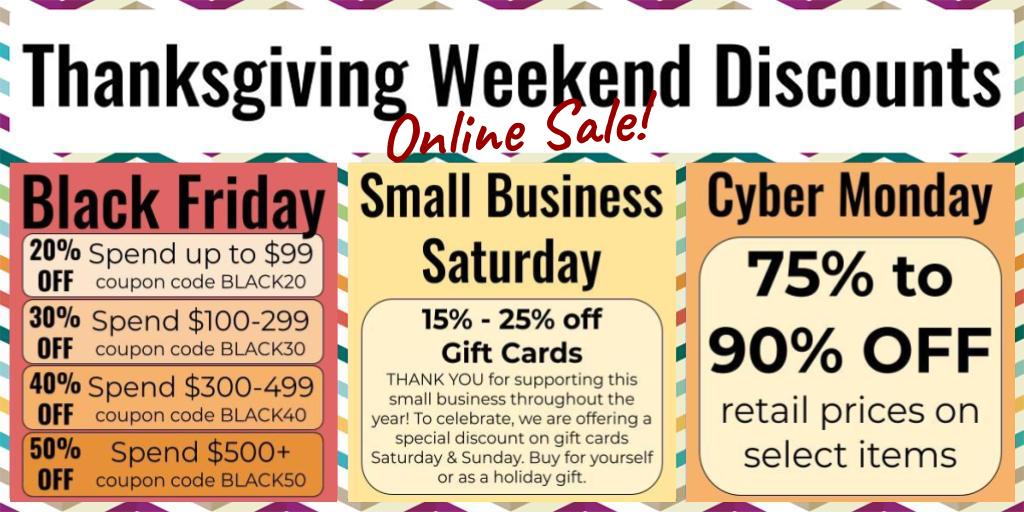 We've got special discounts during Thanksgiving weekend in our online shop! Our Seattle store will be CLOSED Thursday, November 25th - Monday, November 29th so we can spend time with friends & family for the holiday weekend.
BLACK FRIDAY - November 26th - our online sale starts Friday at 12:01am PST. Spend more, save more! You can save up to 50% off your purchase in our online store. Have items shipped to you or choose in-store pick-up.
SMALL BUSINESS SATURDAY - November 27th & 28th- THANK YOU for supporting this small business throughout the year! To celebrate, we are offering a special discount on gift cards Saturday & Sunday. Buy for yourself or as a holiday gift! Gift Cards can be used in-store or online (please contact us for online instructions). We'll add a link here when it goes live! They will be eligible for use starting Tuesday, November 30th with no expiration.
CYBER MONDAY – November 29th – up to 90% off retail on select items all day in our online shop!
GIVING TUESDAY – November 30th - Support our affiliated non-profit Seattle Women's Assistance Fund (SWAF) which provides free women's clothing to Seattle area homeless and low-income residents through our Holiday Giving Tree or purchase tickets for our Small Business Basket raffle.
LINKS TO ALL THE ABOVE PROMOTIONS WILL GO LIVE ON THE DAY THEY ARE VALID.