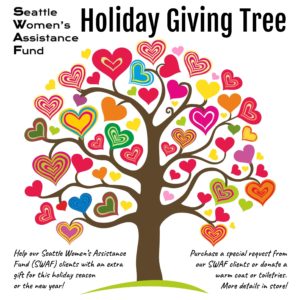 This holiday season we're reaching out even more to our neighbors in need through Seattle Women's Assistance Fund!
SWAF clients are unhoused & low-income Seattle area residents in need of plus-size clothing. In addition to free clothing, each winter we have a coat & toiletry drive.
This year we're adding in a Giving Tree! So many of our customers are saying "I don't need any clothing right now...." but there are definitely those who need them! So help us and our SWAF clients by purchasing an item that SWAF clients have requested, or perhaps a bag for the next fill-a-bag sale. You can also still donate a coat or toiletries.
Everyone who donates through the end of the year will be entered in a drawing for a $50 Two Big Blondes gift card.
THANK YOU for your continued generosity year-round!

If you're not able to come into our Seattle store, you can donate online too: