Clothing size 14+
As winter turns to spring, we've got you covered - from rain jackets & boots to spring pastels for Easter & warmer weather.
SHOES SIZE 8+
Add some color to your look. Beat the gloom of Seattle rain with fun prints for Spring!
Accessories too!
Scarves, jewelry, handbags, hats & more. Perfect for gifts or to finish off your look. Accessories fit all sizes!
Plus Size Clothing & Accessories
From couture to casual, we have it all. We carry clothing size 14 and up, shoes size 8 and up and all accessories. Our 5,000 square foot sales floor is stocked with over 10,000 items for sale with inventory is replenished every day. Shop frequently and each time you'll find new treasures.
We offer personalized shopping assistance. Whether it's dressing for a special occasion, finding a new look, or coordinating an outfit, we're here to help you feel great in your new clothing. Join our wishlist and we'll contact you when your favorite items come in for consignment!
We offer a diverse selection of clothing choices and styles, including special occasion attire, active & swimwear, professional & casual, maternity & lingerie, and trendy & junior selections.  Our inventory also includes a wide variety of accessories including jewelry, scarves, hats, gloves, purses, wallets, shoes and perfumes.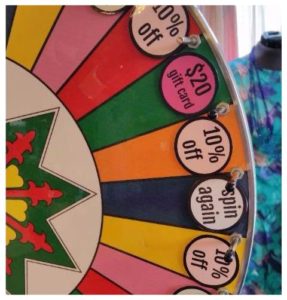 Discounts & sales
So many ways to save!! All of our clothing is priced at 50% - 75% off retail prices. In addition we have two sale rooms with discounts at 25%, 50% & 75% off select items. We have monthly specials and events such as the Spinning Wheel of Deals to save you money and have fun along the way. We have four major store wide sales each year including:
The Giant Storewide Sale generally takes place in February/March and the end of August. These two sales include discounts up to 95% off and a Bag Sale in our basement at which you can fill a 13-gallon bag for $10.00.
Storewide Birthday Sale the first weekend of June each year.
Annual Holiday Store Wide Sale is in early December with discounts up to 90% off.
**These dates may change based on COVID-19 restrictions. We will announce all sales on our News & Events page.**
Sign up below for our monthly newsletter for exclusive monthly coupons!!
JOIN OUR COMMUNITY
Sign up for our monthly e-newsletter to be the first to know about upcoming sales & events, share fashion inspiration, receive exclusive coupons, and stay in touch with happenings in the store and online. Also follow us on social media (see links below) for the latest coming in-store and online! We hope to see you soon, Lisa