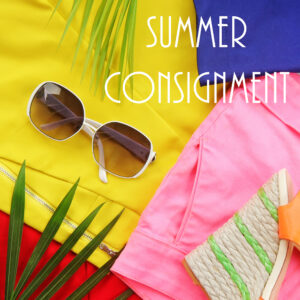 NOTE: All appointments are booked prior to our June Sale. We are now scheduling appointments for the 2nd week of June for summer items. We will accept up to 20 items as a walk-in drop-off on Saturday 11am - 5PM May 7th, 14th & 21st. **NO CONSIGNMENT accepted May 22nd - June 6th due to our June Birthday Sale.
In May we will continue to take spring items as well as adding in summer items! Summer Consignment Includes:
Fabrics: Light-weight, natural fabrics, linens, gauze
New Items: shorts, sandals, sundresses, tank tops, swimsuit separates, beach cover-ups, sun hats
No more: Leather or fleece jackets, suede fabrics, ankle boots
Holidays:

Mother's Day, Memorial Day/Picnics,

Pride Month, Independence Day, Picnics, SeaFair
We'll continue to take year-round light- and mid-weight items including:
short & long-sleeve tops
capris, jeans & trousers
lightweight jackets including rain jackets
lightweight sweaters & shrugs (no wools)
SPECIFIC REQUESTS:
We are specifically in need of purses and size 11 & up shoes.
As usual, please review the consignment guidelines and contact us if you have any questions. Fill out our Consignment Appointment Request Form to make an appointment.