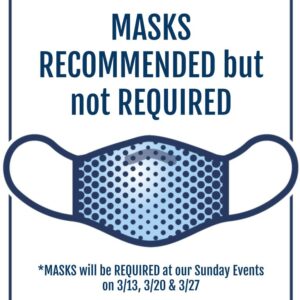 March 12, 2022: The Seattle/King County indoor mask mandate ends today, and Two Big Blondes is following the Public Health guidelines, so masks will now be optional in our store, EXCEPT during the Sunday events happening in March due to higher occupancy. We still HIGHLY RECOMMEND wearing a mask due to our customer base, neighborhood, and families being part of higher risk population.
While the rate of new cases is now down, new variants are on the horizon and overwhelming hospitals overseas. We will continue to stay vigilant and safe, including ensuring good ventilation & air flow in our building. We love our TBB community and know that we all want to take care of each other!
July 26th, 2021: Two Big Blondes will again require masks for all customers in our store. Today Public Health - Seattle & King County issued a new Indoor Masking Directive, stating that everyone age 5 years and older in King County should wear a face-covering within indoor public spaces, including retail settings, regardless of vaccination status. Read more in "Region's Top Health Officials Issue Unified Advice: Everyone Should Mask Up In Indoor Public Spaces."

July 1, 2021: We are following guidelines issued by Public Health - Seattle & King County and the State of Washington which include the following:
Vaccinated people no longer need to wear a mask in most public settings but may choose to do so based on personal considerations.
Everyone, vaccinated or not, should continue to keep a mask with them when they go out. Masks will be needed in some indoor spaces.
People who are unvaccinated or partially vaccinated must continue to wear face coverings when they enter indoor public spaces, according to state guidance. This helps protect not only adults who are unvaccinated, particularly as more contagious variants are spreading, but also children and those with medical conditions that prevent them from getting vaccinated or from being fully protected by vaccines.
While there is no longer a capacity maximum, we will monitor capacity during our sales to maintain a safe environment for all of our customers. Two Big Blondes continues to offer face masks & hand sanitizer for customers & community members.
May 22, 2021: Public Health - Seattle & King County has issued an updated Directive strongly urging all residents, fully vaccinated or not, to continue wearing face masks in public indoor settings. Two Big Blondes continues to require masks while shopping in our store to keep our store a safe environment for our entire community.
"In stores and other public spaces, if we say only unvaccinated people need to wear a mask, we have no way to know who is vaccinated and who isn't, and it's impractical for businesses to determine that. If unvaccinated people do not wear masks, the risk for COVID-19 spread increases. So, from a practical and community health perspective, the most reliable way to ensure everyone is safe is for everyone to wear a face mask for a few more weeks, until we get vaccination rates higher and disease rates lower.
The Directive will remain in effect until 70% or more of King County residents 16 years of age and older are fully vaccinated. Someone is considered fully vaccinated two weeks after their second shot (or in the case of the Johnson & Johnson vaccine, their first shot). We're hopeful that we'll achieve this goal in late June."
Read more about the Directive here: https://publichealthinsider.com/2021/05/20/mask-directive-for-indoor-spaces/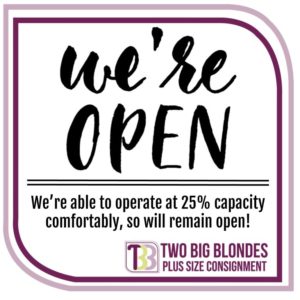 FEBRUARY 2, 2021: Our open hours remain the same based on Governor Inslee's Healthy Washington — Roadmap to Recovery phased recovery plan announced January 5th & the move to Phase 2 on February 1, 2021. We are currently open for shopping Tuesday - Saturday, 11:00 am - 6:00 pm. Retail stores such as ours can remain open at 25% of maximum occupancy, which we never have a problem meeting with our large store. We continue to follow all required safety protocols as outlined below.
NOVEMBER 15, 2020: We're still open! In response to the Governor's new restrictions announced Sunday, November 15th, we want everyone to know that we will still be open and operating as we have been the last few months!  We are currently open Tuesday-Saturday, 11:00 am - 6:00 pm. However, it's always a good idea to check our store hours first by calling the store. We will be closed for Thanksgiving November 26th - 30th.
We continue to take safety precautions to ensure customer & staff safety, including:
Requiring face coverings / masks
Disinfecting dressing rooms after each use
Holding any clothing tried-on for 24 hours before putting back on the floor for sale
Wiping down shared surfaces regularly
Consignment by drop-off only with a hold period before sorting & putting out for sale
***Contact us if you want to schedule a private shopping appointment outside of regular hours for safety reasons!***
We will continue to update you all if we make any changes to our open hours. Take care & be safe everyone!!
MAY 13, 2020: When will we re-open? That is the big question that we all have! I wish I could give an exact date that we will be able to re-open. Based on the new guidance in the Safe Start WA issued by Governor Inslee, Two Big Blondes will remain closed until at least early June. Once Seattle moves into "Phase 2," I will announce our re-opening plans.
At that time, in order to maintain a safe shopping environment for our customers and staff, I will announce new in-store shopping & consignment policies in compliance with Gov. Inslee's Retail Operations Requirements.
MARCH 26, 2020: We'll continue our temporary suspension of open / public hours as ordered by the Governor in his "Stay Home, Stay Healthy" proclamation until we're advised it is safe to re-open. All consignments & layaways are essentially frozen until we re-open. Contact us via phone message or email with questions.
MARCH 16, 2020: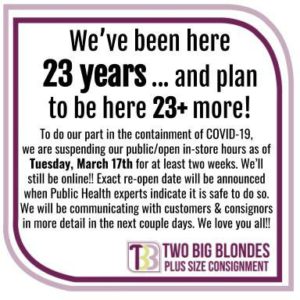 We've been here 23 years … and plan to be here 23+ more! However, to do our part in the containment of COVID-19, we are suspending our public/open in-store hours as of Tuesday, March 17th for at least two weeks. An exact re-open date will be announced when Public Health experts indicate it is safe to do so. We will be communicating with customers & consignors in more detail in the next couple days.
We're adjusting to rapidly changing information & recommendations. Although we do not fall withing the Governor's recent retail closure recommendations, listening to public health experts and thinking about how to best take care of our customers and community, suspending our public open hours is the best thing to do. We will have more details tomorrow about how you can still shop with us - including through our online shops and through Facebook & Instagram. Thank you for your patience as we sort it all out!
While these times are a bit scary, please know how important our Two Big Blondes community is to us and that nevertheless, we will persist!
MARCH 12, 2020:
Well…what times we are living through! First & foremost, we thank everyone for their support. We are thinking of our TBB community as we navigate through this uncharted territory. I'm writing to let you know how things stand at this moment, but everything is changing rapidly. As we monitor and react to new information, I will continue to update you if conditions change for us at our store through emails, our website and social media.
Taking into consideration both the health & safety impact of our decisions as well as the financial impact of this pandemic, the following is what Two Big Blondes is doing to address these issues:
Keeping our physical environment clean with continual sanitation of shared spaces & physical objects in our store including hand sanitizer stations throughout the store.
Ensuring any employees with symptoms of illness (whether or not COVID-19 related) stay home until they are well. We have had no known exposure to the coronavirus.
Increasing online spotlights & selling.
Offering personalized shopping assistance. Contact us with what you're looking for and we can email or text photos of what we have in-store. We can then ship or hold for pick-up. Free shipping on orders over $75.
Extending layaway deadlines. Monthly payments are still required but the final pick-up date can be extended by request. Call in a payment over the phone with a credit card, mail a check, or even pay with PayPal or Venmo if you are not able to come to the store for payments. On the other hand, if you want to pay off your layaway we can keep it here until you're ready to pick it up.
Extending consignment period by 20 days to all items currently on consignment and new consignment orders until further notice. Your new "expiration date" will be an additional 20 days to what is listed on your inventory list email. Please email us if you need that list re-sent. If you have a pick-up date scheduled in the next 20 days let us know if you'd like to change it based on the new end date.
Continuing our Seattle Women's Assistance Fund appointments. We know that the need for clothing will not only continue but will grow and we want to maintain this service to our neighbors. We are assessing other ways we can help our neighbors in need as well.
Here's what you can do to help us weather this storm:
Purchase gift cards and items we list on our social media pages & online. Sign up for our online shopping newsletter for updates.
Change your payment preference from mailed check to store credit. If you normally receive a mailed check for payment and have a consignment ending in the next couple months, consider changing your account to store credit for the time being. Please email us if you want to change your account payment choice.
To protect our staff and other customers, do not come in the store if you are experiencing any signs of illness or have come in contact with anyone with COVID-19. In addition, if you are quarantined due to a suspected or confirmed COVID-19 case, and use that time to clean your closet, please do not bring in any consignment for an additional 14 days past your quarantine period or illness recovery.
Currently we will keep our normal business hours but staffing will be reduced while business has slowed. We'll continue to monitor public health recommendations and will make updates on our website, social media pages & through our newsletter.