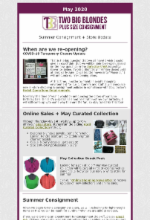 Read our latest newsletter to find out about store events & discounts, what kind of consignment we're taking and what's new in store!
View our latest news in our February 2021 newsletter: https://conta.cc/2YOKmwf
Sign-up for our monthly newsletter here: https://goo.gl/vEAXQN or text TBBPLUS to 22828.
View the last 12 months of newsletters in our Newsletter Archives.